Agric Minister quells EU concerns, says rice exported from Guyana free of pesticides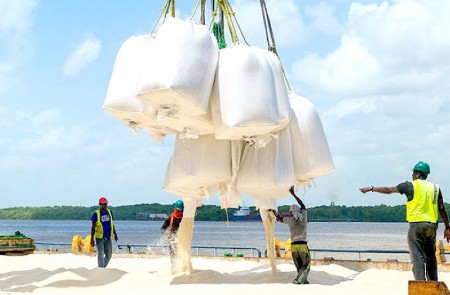 Agriculture Minister, Zulfikar Mustapha says Guyana's rice exports are free from pesticide residue and are safe for consumption.
The Minister said this in an interview with journalists.
He said the products is monitored by several quality assurance and tracking bodies to ensure safety standards are met both in the production and consumption stages.
The European Union (EU) had earlier raised alarms over the quality of exported foods after an analysis was carried out in 2020. The report revealed that brown rice, which was among the 12 samples of foods tested, showed traces of pesticide residue.
The concerns were brow-raising for Guyana as the EU is its largest export market for rice with a 48 per cent rate recorded in 2021.
As a response to this finding, the Guyana Rice Development Board (GRDB) last month held a conference on "Pesticide residue in rice', when plant pathologist, Dr. Rajendra Persaud said the EU has been clamping down with legislation on safety limits of agrochemicals (pesticides) in rice and other imported food products.
The EU's report has since affected the trust of farmers in the quality of fertilizer being supplied locally.
According to the minister, a lot of caution is taken in "ensuring that the pesticide and toxic chemicals control work closely with the GRDB."
The GRDB said a National Monitoring and Surveillance Strategy would be established to evaluate new insecticides.
This was after indicating the high rate of rice farmers' usage of insecticide to control pests. The association said the use of insecticide, pesticide residue or the trace of pesticide compound remains on the crop, water, soil, and air, posing serious constrain to health and the environment.
The GRDB's evaluating strategy is to counter the EU's steps to put pesticide regulations in place.
Currently, the export rate has already exceeded last year at 52 per cent with Portugal as one of the main destinations of Guyana's rice for EU countries, bringing in a whooping US$32.3 million.
All Guyana Editorial – [email protected]
About Author