Transformative Growth: Expansive Housing Projects Blossoming along Guyana's East Coast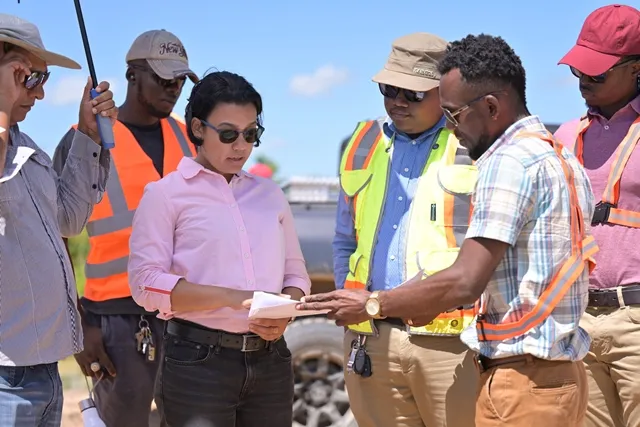 In a significant stride towards addressing housing needs, extensive housing projects are rapidly unfolding along Guyana's East Coast, particularly at La Bonne Intention (LBI) and La Reconnaissance. These endeavors stand as a testament to the government's resolute commitment to providing enhanced housing solutions for its citizens.
A recent visit by Minister of Housing and Water, Collin Croal, underscored the monumental progress being made in these areas. He revealed that these ambitious initiatives are poised to offer hundreds of new house lots and housing units, poised to alleviate the ever-growing demand for housing across the nation.
LBI, poised to become a prominent housing scheme, showcases a meticulously planned area accommodating approximately 327 houses. Notably, the majority of these structures are elegantly elevated, demonstrating a conscious fusion of aesthetics and practicality. Impressively, an impressive 287 houses are actively under construction, with a private developer also contributing to the landscape by establishing a sophisticated mall and an inviting hotel within the vicinity.
Minister Croal affirmed, "LBI is poised to emerge as one of the premier housing communities in our nation."
Venturing further east, La Reconnaissance is witnessing remarkable progress with the development of over 1,300 house lots sprawled across a sprawling expanse of land. Among these, 100 low-income houses are scheduled for completion before the year's end, promising newfound abodes for families in the near future.
Notably, a section of this development encompasses a dedicated area earmarked for a new highway. This thoroughfare is strategically designed to connect multiple housing schemes along the East Coast to the Aubrey Barker Road in Georgetown, thereby fostering connectivity and accessibility.
Beyond the architectural marvels, infrastructure enhancements continue to take center stage, encompassing road networks, bridges, and drainage systems. As a promising precursor to improved accessibility, ongoing route and alignment works have been initiated for the highway, linking Enmore/Foulis to Aubrey Barker Road.
Collectively, the combined value of these transformative projects is estimated at approximately $4.6 billion. The meticulous planning and execution of these developments signify a dynamic investment in Guyana's future, with LBI's evolution costing approximately $2.1 billion and the La Reconnaissance venture amounting to around $2.5 billion.
Recognizing the paramount importance of basic amenities, Guyana Water Incorporated (GWI) is leaving no stone unturned. The establishment of wells in both regions is diligently undertaken to ensure that the new residents enjoy seamless access to safe and reliable potable water.
As the landscape of Guyana's East Coast undergoes a remarkable metamorphosis, these housing endeavors not only meet immediate needs but stand as enduring monuments to progress, connectivity, and the enduring pursuit of a better quality of life for all.
About Author